Research
Our mission is to integrate state-of-the-art technologies, animal models and drug discovery to promote a Center of Excellence for Myelin Repair. The overall goal is to move towards personalized regenerative medicine and design of new therapeutic strategies to repair the damage and restore function.
Our ability to move, think, perceive, is dependent on a timely transmission of information among specialized cells called neurons. This information is sent via a series of electrical impulses that travel along specialized structures called "axons", whose ability to conduct signal is dependent on the presence of "myelin".
Myelin is a fatty substance composed of lipids and proteins that is an integral component of a cell called "oligodendrocyte".
Oligodendrocytes are the myelin-forming cells of the CNS and are essential for brain function.
Oligodendrocytes originate from neural stem cells that undergo several changes before reaching the stage of late maturation.
The laboratory is working in major research areas:
Epigenetic Regulation of gene expression (how the environment affects the ability of DNA to express genes)
Myelin Formation in development and in disease
Mechanisms of Neurodegeneration and disease progression in MULTIPLE SCLEROSIS (towards the discovery of new treatments)
Personalized Medicine(define the effect of genes, diet, exercise, stress and social interaction in therapy responsiveness and disease manifestation
These areas are focused on the following goals:
define the steps leading to the acquisition of oligodendrocyte identity, in order to correct potential deficits due to aging and pathological states
understand how myelin forms during development, in order to better design protocols to instruct stem cells towards forming new myelin
develop new therapies to preserve axonal function and improve recovery after myelin damage has occurred
develop patient-based therapeutic approaches
Featured
Mitotracker in Damaged Neuron
Mitotracker in Damaged Neuron Treated with MS-275
Projects
Myelin
is the membrane of specialized cells called oligodendrocytes. Myelin is not only a "passive" insulation of the nerve "fiber", but also as very active interface to exchange reagents with the axon, thereby actively participating to axonal function
Myelin damage
can be detected in:
Neurological Disorders of the Adult Brain including toxic, metabolic or ischemic conditions as well as in inflammatory conditions, such as Multiple Sclerosis.
Pediatric pathologies related to genetic defects or nutritional (i.e. low iron diet, vitamin B12 deficiency) and hormonal (i.e. hypothyroidism) deficiencies in the mother, as well as to developmental disorders of the preterm infant.
Psychiatric disorders, including: depression, schizophrenia and autism
To understand what steps are important for the generation of oligodendrocytes one project involves the study of the molecular events responsible for the formation of these cells during development. A follow up study is to ask whether the same events are reactivated in the adult brain after injury. Developmental myelination is studied in mouse and rat models during the first two post-natal weeks, a temporal window which corresponds to human mid-gestation. Molecules and genes are then analyzed in adult animals and in human cells and brain specimens. A second area of study is axonal damage, since this is a critical event to target for repair. We are using multiple approaches to target this issue, including live imaging, animal models and human cells. An overall description of these studies is presented below. Detailed information can be found in the publication links.
Project 1
The role of the environment in modulating gene expression: epigenomics, development and disease

Epigenetics refers to external factors affecting gene expression independently of changes in DNA sequence.
Epigenetics and development
All the cells in our bodies share the same genetic information so each one must define its own identity by making sure that only genes involved in its specific function are expressed. My lab has been investigating how oligodendrocytes acquire their identity during development. We showed that the identity of these myelin-making cells requires the inactivation of genes that prevent myelin gene expression. We then demonstrated that the process of myelin repair in the adult brain recapitulates developmental events and is severely impaired with ageing. We are therefore exploring the idea that myelin regeneration in the adult brain could be achieved by finding ways of eliminating the expression of genes interfering with myelin synthesis. An interesting finding of the lab that was published last year is that social experiences modulate gene expression in oligodendrocyte by affecting chromatin.
Epigenetics and Disease
We have focused our research interest on MS. The model being tested by the lab is that genetics provides the susceptibility to develop the disease (for instance by creating an immune system that is more prone to "attack" specific molecules or specific cell types). The environment and life style, however, has the ability to tweak this propensity by changing the expression of certain genes. In other words, the manifestation of the disease is the result of a combination between genetic predisposition and environmental influences including sun exposure, smoking, possibly diet and lifestyle, viral infections and microbial populations. Here is a blog from the ALS meeting 2013.
Guts and Brains
We have recently started a very exciting study in the characterization of the microbiome in patients with MS and we hope that this interesting venue of analysis will provide potential new therapeutic intervention tools. Read more about the microbiome studies.
Project 2
Molecular mechanisms of repair in demyelinating and dysmyelinating disorders using animal models
and patient-derived induced pluripotent stem cells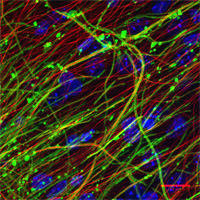 Myelin damage is detected in a wide variety of disorders in children and adults. Myelin malfunction in children may be caused by genetic deficits, maternal nutritional deficiencies, vascular problems, prematurity. The main cause of demyelination in the adult brain is an immunological attack to myelin, as observed in Multiple Sclerosis, and the demyelination observed after traumatic injury to the brain or the spinal cord. Recovery of function can be obtained only after progenitors differentiate into myelinating oligodendrocytes and form new myelin. We previously defined the critical role played by molecules called "histone deacetylases" (i.e. HDACs) in myelin formation during development and showed that administration of pharmacological inhibitors of HDAC to developing rats or fish inhibited developmental myelination. We have recently extended our work to the investigation of repair of damaged myelin in the adult brain. Using chromatin immunoprecipitation and confocal analysis of brain slices, we are characterizing the response of adult progenitors to toxic demyelination of white matter tracts in the mouse brain and spinal cord. We have also started to define whether similar changes occur in induced pluripotent stem cells derived from patients' skin. The overall goal is to define novel molecular targets to promote repair in demyelinating disorders of the adult brain (i.e. Multiple Sclerosis) and in pediatric diseases characterized by demyelination.
Project 3
Understanding the mechanism of clinical disability and disease progression: axonal damage and neurodegeneration
The actual mechanism of neurodegeneration (i.e. damage to axons and loss of neurons) is still debated and its elucidation is critical for development of effective therapies. It was traditionally believed that damage was the direct consequence of 'loss of myelin', but we now know that this is not the only cause. Damaged axons can also be detected in areas that do not show signs of clear demyelination. Existing treatments have successfully reduced the number of relapses by targeting the immune component of the disease, but the neurodegenerative aspect remains an open target. This combined evidence suggested the existence of alternative mechanisms of axonal damage and we have recently identified at least two novel mechanisms of damage and are working towards the development of new treatments. One of the lead candidates is being tested in animal models of MS and the first results are spectacular and we hope to translate them into therapy for patients with severely impaired motor function.
2017
Motl RW, Mowry EM, Ehde DM, LaRocca NG, Smith KE, Costello K, Shinto L, Ng AV, Sullivan AB, Giesser B, McCully KK, Fernhall B, Bishop M, Plow M, Casaccia P, Chiaravalloti ND. Wellness and multiple sclerosis: The National MS Society establishes a Wellness Research Working Group and research priorities. Mult Scler. 2017 Jan 1:1352458516687404. doi: 10.1177/1352458516687404. [Epub ahead of print] PubMed PMID: 28080254.
---
Dickens, AM., Tovar-y-Romo, LB.,Yoo, SW., Trout, AL., Bae, M., Kanmogne, M., Megra, B., Williams, DW., Witwer, K., Gacias, M., Tabatadze, N., Cole, R., Casaccia, P., Berman, JW., Anthony, DC., Haughey, N. (2016). Astrocyte-Shed extracellular vesicles regulate the leukocyte response to inflammatory brain lesions. Science Signaling (In press).
---
Moyon, S, Ma D, Huynh JL, Coutts DJC, Zhao C, Casaccia P. and Franklin RJM (2017). Efficient remyelination requires DNA methylation. eNeuro (in press)
---
Moyon, S. Casaccia P (2017). DNA methylation in oligodendroglial cells during developmental myelination and in disease. Neurogenesis (in press)
2016
Moyon S, Huynh JL, Dutta D, Zhang F, Ma D, Yoo S, Lawrence R, Wegner M, John GR, Emery B, Lubetzki C, Franklin RJ, Fan G, Zhu J, Dupree JL, Casaccia P. Functional Characterization of DNA Methylation in the Oligodendrocyte Lineage. Cell Rep. 2016 Apr 13. pii: S2211-1247(16)30331-X. doi: 10.1016/j.celrep.2016.03.060. [Epub ahead of print] PubMed PMID: 27149841; PubMed Central PMCID: PMC5063656.
---
Wang M, Roussos P, McKenzie A, Zhou X, Kajiwara Y, Brennand KJ, De Luca GC, Crary JF, Casaccia P, Buxbaum JD, Ehrlich M, Gandy S, Goate A, Katsel P, Schadt E, Haroutunian V, Zhang B. Integrative network analysis of nineteen brain regions identifies molecular signatures and networks underlying selective regional vulnerability to Alzheimer's disease. Genome Med. 2016 Nov 1;8(1):104. PubMed PMID: 27799057; PubMed Central PMCID: PMC5088659.
---
Liu J, Moyon S, Hernandez M, Casaccia P. Epigenetic control of oligodendrocyte development: adding new players to old keepers. Curr Opin Neurobiol. 2016 Aug;39:133-8. doi: 10.1016/j.conb.2016.06.002. Review. PubMed PMID: 27308779; PubMed Central PMCID: PMC4987162.
---
Ntranos A, Casaccia P. Bromodomains: Translating the words of lysine acetylation into myelin injury and repair. Neurosci Lett. 2016 Jun 20;625:4-10. doi: 10.1016/j.neulet.2015.10.015. Review. PubMed PMID: 26472704; PubMed Central PMCID: PMC4841751.
---
Laitman BM, Asp L, Mariani JN, Zhang J, Liu J, Sawai S, Chapouly C, Horng S, Kramer EG, Mitiku N, Loo H, Burlant N, Pedre X, Hara Y, Nudelman G, Zaslavsky E, Lee YM, Braun DA, Lu QR, Narla G, Raine CS, Friedman SL, Casaccia P, John GR. The Transcriptional Activator Krüppel-like Factor-6 Is Required for CNS Myelination. PLoS Biol. 2016 May 23;14(5):e1002467. doi: 10.1371/journal.pbio.1002467. PubMed PMID: 27213272; PubMed Central PMCID: PMC4877075.
---
Moyon S, Liang J, Casaccia P. Epigenetics in NG2 glia cells. Brain Res. 2016 May 1;1638(Pt B):183-98. doi: 10.1016/j.brainres.2015.06.009. Review. PubMed PMID: 26092401; PubMed Central PMCID: PMC4683112.
---
Douvaras P, Rusielewicz T, Kim KH, Haines JD, Casaccia P, Fossati V. Epigenetic Modulation of Human Induced Pluripotent Stem Cell Differentiation to Oligodendrocytes. Int J Mol Sci. 2016 Apr 22;17(4). pii: E614. doi: 10.3390/ijms17040614. PubMed PMID: 27110779; PubMed Central PMCID: PMC4849063.
---
Gacias M, Gaspari S, Santos PM, Tamburini S, Andrade M, Zhang F, Shen N, Tolstikov V, Kiebish MA, Dupree JL, Zachariou V, Clemente JC, Casaccia P. Microbiota-driven transcriptional changes in prefrontal cortex override genetic differences in social behavior. Elife. 2016 Apr 20;5. pii: e13442. doi: 10.7554/eLife.13442. PubMed PMID: 27097105; PubMed Central PMCID: PMC4880443.
---
Moyon S, Huynh JL, Dutta D, Zhang F, Ma D, Yoo S, Lawrence R, Wegner M, John GR, Emery B, Lubetzki C, Franklin RJ, Fan G, Zhu J, Dupree JL, Casaccia P. Functional Characterization of DNA Methylation in the Oligodendrocyte Lineage. Cell Rep. 2016 Apr 13. pii: S2211-1247(16)30331-X. doi: 10.1016/j.celrep.2016.03.060. [Epub ahead of print] PubMed PMID: 27149841; PubMed Central PMCID: PMC5063656.
---
Liu J, Dupree JL, Gacias M, Frawley R, Sikder T, Naik P, Casaccia P. Clemastine Enhances Myelination in the Prefrontal Cortex and Rescues Behavioral Changes in Socially Isolated Mice. J Neurosci. 2016 Jan 20;36(3):957-62. doi: 10.1523/JNEUROSCI.3608-15.2016. PubMed PMID: 26791223; PubMed Central PMCID: PMC4719024.
---
Hernandez M, Patzig J, Mayoral SR, Costa KD, Chan JR, Casaccia P. Mechanostimulation Promotes Nuclear and Epigenetic Changes in Oligodendrocytes. J Neurosci. 2016 Jan 20;36(3):806-13. doi: 10.1523/JNEUROSCI.2873-15.2016. PubMed PMID: 26791211; PubMed Central PMCID: PMC4719016.
2015
Zhao, C., Ma, D., Zawadzka, M., Fancy,S., Elis-Williams,L., Bouvier, G., Stockley, J., De Castro, G., Wang,B., Jacobs,S., Casaccia, P, Robin, F. (2015). Sox2 sustains recruitment of oligodendrocyte progenitor cells following CNS demyelination and primes them for differentiation during CNS remyelination. J Neurosci 2015. Aug 19;35(33):11482-99. doi: 10.1523/JNEUROSCI.3655-14.2015.
---
Rolyan,H., Tyurina,Y., Hernandez, M., Amoscato, A., Sparvero,L., Nmezi, B., Lu, Y., Estécio, M., Lin,K., Chen, J., He,R., Gong,P., Rigatti, L., Jeffery, D., Bayır, H., Kagan, V., Casaccia, P., Padiath, Q. (2015).Defects of lipid synthesis are linked to the age dependent demyelination caused by Lamin B1 over expression. J Neurosci 2015. PMID: 26311780 [PubMed – in process] PMCID: PMC4549407.
---
Multiple sclerosis patient-derived CSF induces transcriptional changes in proliferating oligodendrocyte progenitors. Haines JD, Vidaurre OG, Zhang F, Riffo-Campos ÁL, Castillo J, Casanova B, Casaccia P, Lopez-Rodas G.Mult Scler. 2015 May 6. pii: 1352458515573094. [Epub ahead of print]PMID: 25948622.
---
Interplay between transcriptional control and chromatin regulation in the oligodendrocyte lineage.Hernandez M, Casaccia P.Glia. 2015 May 12. doi: 10.1002/glia.22818. [Epub ahead of print] PMID:25970296.
---
Role of Tet1 and 5-hydroxymethylcytosine in cocaine action. Feng J, Shao N, Szulwach KE, Vialou V, Huynh J, Zhong C, Le T, Ferguson D, Cahill ME, Li Y, Koo JW, Ribeiro E, Labonte B, Laitman BM, Estey D, Stockman V, Kennedy P, Couroussé T, Mensah I, Turecki G, Faull KF, Ming GL, Song H, Fan G, Casaccia P, Shen L, Jin P, Nestler EJ.Nat Neurosci. 2015 Apr;18(4):536-44. doi: 10.1038/nn.3976. Epub 2015 Mar 16.PMID:25774451.
---
Nuclear export inhibitors avert progression in preclinical models of inflammatory demyelination.Haines JD, Herbin O, de la Hera B, Vidaurre OG, Moy GA, Sun Q, Fung HY, Albrecht S, Alexandropoulos K, McCauley D, Chook YM, Kuhlmann T, Kidd GJ, Shacham S, Casaccia P.Nat Neurosci. 2015 Apr;18(4):511-20. doi: 10.1038/nn.3953. Epub 2015 Feb 23.PMID:25706475.
---
Chromatin landscape defined by repressive histone methylation during oligodendrocyte differentiation.Liu J, Magri L, Zhang F, Marsh NO, Albrecht S, Huynh JL, Kaur J, Kuhlmann T, Zhang W, Slesinger PA, Casaccia P.J Neurosci. 2015 Jan 7;35(1):352-65. doi: 10.1523/JNEUROSCI.2606-14.2015.PMID: 25568127.
2014
Narayanan M, Huynh JL, Wang K, Yang X, Yoo S, McElwee J, Zhang B, Zhang C, Lamb JR, Xie T, Suver C, Molony C, Melquist S, Johnson AD, Fan G, Stone DJ, Schadt EE, Casaccia P, Emilsson V, Zhu J.,Common dysregulation network in the human prefrontal cortex underlies two neurodegenerative diseases. Mol Syst Biol. 2014 Jul 30;10(7):743. doi: 10.15252/msb.20145304. PMID:25080494.
---
Gacias M, Gerona-Navarro G, Plotnikov AN, Zhang G, Zeng L, Kaur J, Moy G, Rusinova E, Rodriguez Y, Matikainen B, Vincek A, Joshua J, Casaccia P, Zhou MM. Selective chemical modulation of gene transcription favors oligodendrocyte lineage progression. Chem Biol. 2014 Jul 17;21(7):841-54. doi: 10.1016/j.chembiol.2014.05.009. Epub 2014 Jun 19. PMID:24954007.
---
Dutta DJ, Zameer A, Mariani JN, Zhang J, Asp L, Huynh J, Mahase S, Laitman BM, Argaw AT, Mitiku N, Urbanski M, Melendez-Vasquez CV, Casaccia P, Hayot F, Bottinger EP, Brown CW, John GR. Combinatorial actions of Tgfβ and Activin ligands promote oligodendrocyte development and CNS myelination. Development. 2014 Jun;141(12):2414-28. doi: 10.1242/dev.106492. PMID:24917498.
---
Vidaurre OG, Haines JD, Katz Sand I, Adula KP, Huynh JL, McGraw CA, Zhang F, Varghese M, Sotirchos E, Bhargava P, Bandaru VV, Pasinetti G, Zhang W, Inglese M, Calabresi PA, Wu G, Miller AE, Haughey NJ, Lublin FD, Casaccia P. Cerebrospinal fluid ceramides from patients with multiple sclerosis impair neuronal bioenergetics. Brain. 2014 Aug;137(Pt 8):2271-86. doi: 10.1093/brain/awu139. Epub 2014 Jun 3. PMID:24893707.
---
Magri L, Gacias M, Wu M, Swiss VA, Janssen WG, Casaccia P. c-Myc-dependent transcriptional regulation of cell cycle and nucleosomal histones during oligodendrocyte differentiation. Neuroscience. 2014 Sep 12;276:72-86. doi: 10.1016/j.neuroscience.2014.01.051. Epub 2014 Feb 4. PMID: 24502923.
---
Magri L, Swiss VA, Jablonska B, Lei L, Pedre X, Walsh M, Zhang W, Gallo V, Canoll P, Casaccia P., E2F1 coregulates cell cycle genes and chromatin components during the transition of oligodendrocyte progenitors from proliferation to differentiation.J Neurosci. 2014 Jan 22;34(4):1481-93. doi: 10.1523/JNEUROSCI.2840-13.2014. PMID:24453336.
2013
Gacias M, Casaccia P. Promoting return of function in multiple sclerosis: An integrated approach. Mult Scler Relat Disord. 2013 Oct 1;2(4). doi: 10.1016/j.msard.2013.04.002. PubMed PMID: 24363985; PubMed Central PMCID: PMC3868478.
---
Huynh JL, Casaccia P. Epigenetic mechanisms in multiple sclerosis: implications for pathogenesis and treatment. Lancet Neurol. 2013 Feb;12(2):195-206. doi: 10.1016/S1474-4422(12)70309-5. Review. PubMed PMID:23332363; PubMed Central PMCID: PMC3690378.
---
Bharadwaj R, Jiang Y, Mao W, Jakovcevski M, Dincer A, Krueger W, Garbett K, Whittle C, Tushir JS, Liu J, Sequeira A, Vawter MP, Gardner PD, Casaccia P, Rasmussen T, Bunney WE Jr, Mirnics K, Futai K, Akbarian S. Conserved chromosome 2q31 conformations are associated with transcriptional regulation of GAD1 GABA synthesis enzyme and altered in prefrontal cortex of subjects with schizophrenia. J Neurosci. 2013 Jul 17;33(29):11839-51. doi: 10.1523/JNEUROSCI.1252-13.2013.
PubMed PMID: 23864674; PubMed Central PMCID: PMC3713726.
---
Huynh JL, Garg P, Thin TH, Yoo S, Dutta R, Trapp BD, Haroutunian V, Zhu J, Donovan MJ, Sharp AJ, Casaccia P. Epigenome-wide differences in pathology-free regions of multiple sclerosis-affected brains. Nat Neurosci. 2013 Nov 24. doi: 10.1038/nn.3588. [Epub ahead of print] PubMed PMID: 24270187.
---
Magri. L., Swiss VA, Jablonska B., Lei, L., Pedre X., Walsh, M., w. Zhang., Gallo V., Canoll, P., Casaccia P. E2F1 co-regulates cell cycle genes and chromatin components during the transition of oligodendrocyte progenitors from proliferation to differentiation. J. Neurosci , in press.