Research
At the Hurd Lab, our multi-prong research is focused on understanding the contribution and interplay of genes and the environment to the development of addictive disorders, and providing neurobiological insights that innovate and advance treatment and intervention. Translational research is the principal feature of our lab. Led by Dr. Yasmin Hurd, the Director of the Addiction Institute at the Mount Sinai Behavioral Health System, the research lab consists of a multi-disciplinary team of scientists who study addiction through a myriad of lenses: animal behavior, molecular biology, cell biology, pharmacology, psychology, neuroimaging, bioinformatics and biotechnology.
Dr. Yasmin Hurd is Professor in the Departments of Psychiatry, Neuroscience and Pharmacology and Systems Therapeutics. She is the Director of the Addiction Institute.
Areas of Research
At the Hurd Lab, our multi-prong research is focused on understanding the contribution and interplay of genes and the environment to the development of addictive disorders, and providing neurobiological insights that innovate and advance treatment and intervention. Translational research is the principal feature of our lab. Led by Dr. Yasmin Hurd, the Director of the Center for Addictive Disorders at the Mount Sinai Behavioral Health System, the research lab consists of a multi-disciplinary team of scientists who study addiction through a myriad of lenses: animal behavior, molecular biology, cell biology, pharmacology, psychology, neuroimaging, bioinformatics and biotechnology.
Genetic and Epigenetic Mechanisms
Combining standard molecular biological techniques such as in situ hybridization, qPCR, and biochemical assays with innovative methods such as next-generation sequencing and viral-mediated manipulations of discrete neuronal pathways, the Hurd lab investigates neurobiological disturbances associated addiction to variety of substances ( heroin, cannabis, cocaine). Epigenetic mechanisms including DNA methylation, histone modifications and microRNAs are also evaluated in relation to the regulation of gene expression within distinct neuronal populations of the mesocorticolimbic and striatal circuits.
Cutting-edge Molecular Neurobiology
Through our affiliation with the Friedman Brain Institute, the Hurd Lab has access to state-of-the-art technology in confocal and electron microscopy to analyze human and animal tissues at the single-cell level. Additionally, we use non-invasive neuroimaging techniques such as PET, fMRI and small animal MRI to determine real-time changes in neural activity, neurotransmitter levels and drug distribution, as well as structural changes in the brain. We pioneered the technique of DREAMM (DREADD-assisted metabolic mapping) combining molecular pharmacogenetic and in vivo imaging strategies to provide high-resolution quantitative mapping of functional brain circuits associated with disturbance of genes expressed in specific cell populations.
Animal Behavior Models
A large part of our research is committed to animal behavioral studies designed to mimic patterns of prenatal and adolescent THC exposure seen in humans in order to further explore the molecular basis for clinical symptoms observed in human subjects. The Hurd research group is a pioneering leader in the field studying developmental exposure to THC (the main psychoactive component of marijuana), and in particular, its transgenerational impact on neurocognitive development as it relates to vulnerability to addictive disorders and comorbid psychiatric disturbances such as anxiety and depression. We were the first to reveal that adolescent THC exposure may cause permanent changes in the mesocorticolimbic gene expression, receptor function and cellular activity transmitted through the parental germline to subsequent generations.
Human Brain Studies
Another significant part of our research engine is our long-standing translational efforts to study the neurobiological effects of human substance abuse through the direct examination of post-mortem human brain tissue. Through molecular, biochemical, and in vivo imaging studies of the human brain, we also work to understand the relationship of genetic polymorphisms to neurobiological systems underlying addictive and affective disorders.
Clinical Trials
Innovative translational research being the backbone of our research, some of our most exciting research efforts relate to clinical studies in addiction and intervention involving human subjects. Currently, we are conducting clinical research with cannabidiol, a cannabinoid compound from the marijuana plant that we identified from our animal studies to inhibit heroin-seeking behavior. We now study cannabidiol for its novel and potential role in preventing relapse in heroin and cocaine addiction, reducing anxiety, and improving overall cognitive function. We have successfully completed Phase I of this project and are carrying out Phase II studies.
Featured
Cynthia Graber speaks to Yasmin L. Hurd in this Journal for Neuropsychopharmacology Podcast
As opioids claim an ever-greater number of American lives, the DAILY NEWS turned to the nation's top medical specialists for what the addicted and their loved ones need to know. Frequently asked questions about opioid and opiate addiction and use.
Daily News – June 23, 2017
The recent push to legalize recreational and medical marijuana has put the spotlight on Dr. Yasmin Hurd and her pioneering work on the transgenerational effects of cannabis on the developing brain. Dr. Hurd's research was featured on the cover story of TIME magazine on May 25, 2015:
The Great Pot Experiment
.
The Friedman Brain Institute
Game-changers in the field of Addiction. Addiction is a disorder of the brain, not one of morality. The Friedman Brain Institute actively seeks to discover what unique characteristics make certain individuals more vulnerable to addictive disorders and which treatments may be best suited to help that individual to overcome the disease.
Brain Venn Diagram
Drug Addiction: A brain disorder influenced by genetic and environmental factors
Three-dimensional DREAAM images
functional activation of the rat extended amygdala, cingulate cortex and olfactory tubercle regions after remote unilateral chemogenetic activation of prodynorphin-expressing neurons in the periamygdaloid cortex
2017
ML Miller, Y Ren, H Szutorisz, NA Warren, C Tessereau, G Egervári, A Mlodnicka, M Kapoor, B Chaarani, CV Morris, G Schumann, H Garavan, AM Goate, MJ Bannon, IMAGEN Consortium, JM Halperin and YL Hurd. Ventral striatal regulation of CREM mediates impulsive action and drug addiction vulnerability. Molecular Psychiatry, Epub: Apr 25, 2017.
---
Hurd YL. Cannabidiol: Swinging the Marijuana Pendulum From "Weed" to Medication to Treat the Opioid Epidemic, Trends in Neuroscience, 40(3):124-127, 2017.
---
Miller ML, Hurd YL. Testing the Gateway Hypothesis. Neuropsychopharmacology. Epub: Jan 18, 2017.
2016
Mazzone C, Pati D, Michaelides M, DiBerto J, Fox J, Tipton G, Anderson C, Duffy K, McKlveen J, Hardaway J, Magness S, Falls W, Hammack S, McElligott Z, Hurd YL and Kash T. Acute engagement of Gq-mediated signaling in the bed nucleus of the stria terminalis induces anxiety-like behavior. Molecular Psychiatry, Epub, Dec 13 2016.
---
Egervari G, Landry J, Callens J, Fullard JF, Roussos P, Keller E and Hurd YL. Striatal H3K27 acetylation linked to glutamatergic gene dysregulation in human heroin abusers holds promise as therapeutic target. Biological Psychiatry, Epub, Sep 28, 2016.
---
Bassier Nia A, Medrano B, Perkel C, Galynker I, Hurd YL. Psychiatric comorbidity associated with synthetic cannabinoid use compared to cannabis. J Psychopharmacol. Epub: Jul 26, 2016.
---
Egervari G, Jutras-Aswad D, Landry J, Miller ML, Anderson SA, Michaelides M, Jacobs MM, Peter C, Yiannoulos G, Liu X, Hurd YL. A Functional 3'UTR Polymorphism (rs2235749) of Prodynorphin Alters microRNA-365 Binding in Ventral Striatonigral Neurons to Influence Novelty Seeking and Positive Reward Traits. Neuropsychopharmacology. EPub Apr 14, 2016.
---
Szutorisz H and Hurd YL. Epigenetic Effects of Cannabis Exposure. Biological Psychiatry, Epub Nov 3, 2015. 1;79(7):586-94, 2016. PMCID: PMC4789113.
2015
Watson CT, Szutorisz H, Garg P, Martin Q, Landry JA, Sharp AJ, Hurd YL. Genome-Wide DNA Methylation Profiling Reveals Epigenetic Changes in the Rat Nucleus Accumbens Associated With Cross-Generational Effects of Adolescent THC Exposure. Neuropsychopharmacology : official publication of the American College of Neuropsychopharmacology 2015 Jun.
---
Parsons LH, Hurd YL. Endocannabinoid signalling in reward and addiction. Nature Review Neuroscience. Epub Sep 16, 16(10):579-94, 2015. PMCID: PMC4652927.
2014
Xu, Z Lu, M Xu, L Pan, Y Deng, X Xie, H Liu, S Ding, YL Hurd, G Pasternak, R Klein, L Cartegni, W-H Zhou, and Y-X Pan. A heroin addiction severity-associated intronic single nucleotide polymorphism modulates alternative pre-mRNA splicing of the mu opioid receptor gene, OPRM1, via hnRNPH interactions. J. Neuroscience, Epub, Aug 13, 34:11048-11066, 2014. PMCID: PMC4131016. PMID: 25122903
---
A Alpar, G Tortoriello, D Calvigioni, M Niphakis, I Milenkovic, J Bakker, G Cameron, J Hanics, CV Morris, J Fuzik, Gabor Kovacs, B Cravatt, J Parnavelas, WD Andrews, YL Hurd, E Keimpema, and T Harkany. Endocannabinoids modulate cortical development by configuring Slit2/Robo1 signaling. Nature Communications, Epub, July 17, 2014. PMCID: PMC4110686. PMID: 25030704
---
Maze I, Chaudhury D, Dietz DM, Von Schimmelmann M, Kennedy PJ, Lobo MK, Sillivan SE, Miller ML, Bagot RC, Sun H, Turecki G, Neve RL, Hurd YL, Shen L, Han MH, Schaefer A, Nestler EJ. G9a influences neuronal subtype specification in striatum. Nat Neurosci. Epub, Mar 2. 2014. PMCID: PMC3972624. PMID: 24584053
---
Szutorisz H, DiNieri JA, Sweet E, Egervari G, Michaelides M, Carter JM, Ren Y, Miller ML, Blitzer RD, Hurd YL. Parental THC exposure leads to compulsive heroin-seeking and altered striatal synaptic plasticity in the subsequent generation. Neuropsychopharmacology : official publication of the American College of Neuropsychopharmacology 2014 May; 39(6).
---
Tortoriello G, Morris CV, Alpar A, Fuzik J, Shirran SL, Calvigioni D, Keimpema E, Botting CH, Reinecke K, Herdegen T, Courtney M, Hurd YL, Harkany T. Miswiring the brain: Δ9-tetrahydrocannabinol disrupts cortical development by inducing an SCG10/stathmin-2 degradation pathway. The EMBO journal 2014 Apr; 33(7).
---
Trampush JW, MM Jacobs, YL Hurd, JH Newcorn, JM Halperin. Moderator Effects of Working Memory on the Stability of ADHD Symptoms by Dopamine Receptor Gene Polymorphisms during Development. Developmental Science, Epub, Jan 11, 2014. PMCID: PMC4069210. PMID: 24410775
2013
Mazzone C, Pati D, Michaelides M, DiBerto J, Fox J, Tipton G, Anderson C, Duffy K, McKlveen J, Hardaway J, Magness S, Falls W, Hammack S, McElligott Z, Hurd YL and Kash T. Acute engagement of Gq-mediated signaling in the bed nucleus of the stria terminalis induces anxiety-like behavior. Molecular Psychiatry, Epub, Dec 13 2016.
---
Michaelides M, Anderson SA, Ananth M, Smirnov D, Thanos PK, Neumaier JF, Wang GJ, Volkow ND, Hurd YL. Whole-brain circuit dissection in free-moving animals reveals cell-specific mesocorticolimbic networks. The Journal of clinical investigation 2013 Dec; 123(12).
---
Anderson SA, Michaelides M, Zarnegar P, Ren Y, Fagergren P, Thanos PK, Wang GJ, Bannon M, Neumaier JF, Keller E, Volkow ND, Hurd YL. Impaired periamygdaloid-cortex prodynorphin is characteristic of opiate addiction and depression. The Journal of clinical investigation 2013 Dec; 123(12).
---
Karatsoreos I, J Thaler, S Borgland, F Champagne, YL Hurd, and M Hill. Food for Thought: Hormonal, Experiential and Neural Influences on Feeding and Obesity. Journal of Neuroscience, 33(45):17610-6, 2013. PMCID: PMC3818543 PMID: 24198352
---
Chadwick B, Miller ML, Hurd YL. Cannabis Use during Adolescent Development: Susceptibility to Psychiatric Illness. Front Psychiatry, Oct 14;4:129, 2013. PMCID: PMC3796318. PMID: 24133461
---
MK Lobo, S Zaman, Rosemary Bagot, D Damez Werno, JW Koo, J DiNieri, A Nugent, E Finkel, E Mouzon, R Cachope, J Cheer, D Dietz, D Self, YL Hurd, V Vialou, and E Nestler. FosB Induction in Striatal Medium Spiny Neuron Subtypes in Response to Chronic Pharmacological, Emotional, and Optogenetic Stimuli. J Neuroscience, 33(47):18381-95, 2013. PMCID: PMC3834048. PMID: 24259563
---
Kozlenkov A, Roussos P. Timashpolsky A, Barbu M, Rudchenko S, Bibikova M, Klotzle B, Byne W, Lyddon R, Di Narzo A, Hurd YL, Koonin E, Dracheva S. Differences in DNA methylation between human neuronal and glial cells are concentrated in enhancers and non-CpG sites. Nucleic Acids Research, Epub: Sep 20, 2013. PMCID: PMC3874157. PMID: 24057217
---
Mitchell AC, Bharadwaj R, Whittle C, Krueger W, Mirnics K, Hurd Y, Rasmussen T, Akbarian S.The Genome in Three Dimensions: A New Frontier in Human Brain Research. Biol Psychiatry. Aug 16, 2013. PMCID: PMC3925763. PMID: 23958183
---
Hurd YL, Michaelides M, Miller ML, Jutras-Aswad D. Trajectory of Adolescent Cannabis Use on Addiction Vulnerability. Neuropharmacology. Epub: Aug 14, 2013. PMCID: PMC3858398. PMID: 23954491
---
E Keimpema, A Alpar, F Howell, K Malenczyk, C Hobbs, YL Hurd, M Watanabe, K Sakimura, M Kano, P Doherty and T Harkany. Diacylglycerol lipase α manipulation reveals developmental roles for intercellular endocannabinoid signaling. Nature Scientific Report, 3:2093, 2013. PMCID: PMC3695556. PMID: 23806960
---
Sillivan SE, Whittard JD, Jacobs MM, Ren Y, Mazloom AR, Caputti F, Horvath M, Keller E, Ma'ayan E, Pan Y-X, Chiang LW and Hurd YL. ELK1 transcription factor linked to dysregulated striatal mu opioid receptor signaling network and OPRM1 polymorphism in human heroin abusers. Biological Psychiatry, Epub: May 20, 2013. PMCID: PMC4070524. 23702428
---
Manini AF, Jacobs MM, Vlahov D, Hurd YL. Opioid receptor polymorphism A118G associated with clinical severity in a drug overdose population. J Med Toxicol. Jan 15, 2013. Recommended by Faculty of 1000. PMCID: PMC3648633. PMID: 23318993
---
Bergamaschi MM, Barnes A, Queiroz RH, Hurd YL, Huestis MA. Impact of enzymatic and alkaline hydrolysis on CBD concentration in urine. Anal Bioanal Chem. May;405(14):4679-89, 2013. PMCID: PMC3703206. PMID: 23494274
2012
Jacobs MM, Okvist A, Horvath M, Keller E, Bannon MJ, Morgello S, Hurd YL. Dopamine receptor D1 and postsynaptic density gene variants associate with opiate abuse and striatal expression levels. Molecular Psychiatry. Epub Oct 9, 2012. PMCID: PMC3637428. PMID: 23044706
---
Tomasiewicz HC, Jacobs MM, Wilkinson MB, Wilson SP, Nestler EJ, Hurd YL. Proenkephalin mediates the enduring effects of adolescent cannabis exposure associated with adult opiate vulnerability. Biol Psychiatry. 2012 Nov 15;72(10):803-10. PMID: 22683090.
---
Jutras-Aswad D, Jacobs MM, Yiannoulos G, Roussos P, Bitsios P, Nomura Y, Liu X, Hurd YL. Cannabis-dependence risk relates to synergism between neuroticism and proenkephalin SNPs associated with amygdala gene expression: case-control study. PLoS One. 2012;7(6):e39243. PMID: 22745721.
2011
DiNieri JA, Wang X, Szutorisz H, Spano SM, Kaur J, Casaccia P, Dow-Edwards D, Hurd YL. Maternal cannabis use alters ventral striatal dopamine D2 gene regulation in the offspring. Biological psychiatry 2011 Oct; 70(8).
James Callens
Associate Researcher I
Annie Ly
Associate Researcher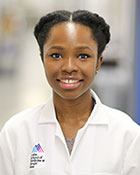 Diana Akpoyibo
PhD Student
Anissa Bara, PhD
Postdoctoral Fellow
Randy Ellis
PhD Student
randy.ellis@Icahn.mssm.edu
Philip Kamilar-Britt, B.A.
Clinical Research Coordinator
philip.kamilar-britt@mssm.edu
Molecular Neurobiology of Human Drug Abuse - R01DA015446
Opiate addiction is now a national epidemic marked by an increased incidence of abuse and overdose of heroin and elevated misuse of prescription opioids which also bears a high incidence of overdose death. Despite this growing opiate problem there remains a lack of knowledge about the molecular neuropathology of this human disorder. A fundamental core of our reverse translational research efforts has thus been to fill critical gaps of knowledge by direct investigation of the brains of human heroin abusers. Such efforts have identified the transcription factor ets-like kinase 1 (ELK1) as a central candidate in human heroin abusers. ELK1 disturbance was downstream of the mu opioid receptor (the pharmacological target of heroin metabolites and prescription opiates) and mitogen-activated protein kinase (MAPK) pathway and it was found by in silico analysis of microarray data to target the promoters of a large percentage of down-regulated genes in the nucleus accumbens (NAc) of heroin abusers. Surprisingly, very limited knowledge exist about ELK1 in relation to drug abuse, but this transcription factor has been implicated in other fields in cellular differentiation and synaptic plasticity that are highly relevant to the pathophysiology of addiction disorders. We hypothesize that heroin abuse leads to dysregulated ELK1-mediated transcriptional activity of target genes involved in the reorganization of striatal synapses and that modulate drug-seeking behaviors. We propose: (1) to determine ELK1-mediated transcriptional regulation in neurons within striatal and mesocorticolimbic brain regions of human heroin abusers by conducting ELK1 ChIP in combination with high throughput sequencing (ChIP-seq) on the nucleus accumbens, dorsal striatum and medial orbitofrontal cortex of heroin abusers. This data will also be integrated with transcriptome analysis to determine the relationship to gene expression. (2) To identify the epigenetic landscape across the ELK1 gene that contributes to its dysregulation in heroin abusers. (3) To investigate the causal role of ELK1 in structural plasticity and heroin seeking behavior by use of animal models. The multidisciplinary approach will expand significant insights about novel targets for treatment interventions and the dataset accrued by this body of work will be a unique and valuable resource to the field given the current lack of such human brain data.
Cannabidol as treatment intervention for opiate relapse
Opioid abuse is a significant global public health problem. Of the over million opiate-dependent subjects today, only less than a quarter of such individuals receive treatment. Using a strategy of indirectly regulating neural systems to modulate opioid-related behavior, our preclinical rodent studies demonstrated that cannabidiol (CBD), a nonpsychoactive component of cannabis, specifically inhibits cue-induced heroin-seeking behavior. The fact that drug craving is generally triggered by exposure to conditioned cues suggests that CBD might be an effective treatment for heroin craving, specially given its protracted impact on behavior. It is the goal of this project to (1) determine the safety and basic pharmacokinetic characteristics of cannabidol when administered concomitantly with opiate in humans and (2) characterize the acute and short-term effects of cannabidol administration on cue-induced craving in drug-abstinent heroin-dependent subjects using a random double blind design.
Molecular Neurobiology of Drug Addiction/Project 4 - P01DA008227
The objective of this project is to elucidate transcriptional and epigenetic mechanisms underlying glutamatergic dysregulation in mesocorticolimbic circuits in heroin abuse, a chronic relapsing disorder. Aberrant glutamatergic transmission in the nucleus accumbens (NAc) and medial prefrontal cortex (mPFC) is central to drug-seeking behavior and addiction vulnerability. Our research focuses on studies of the human brain for which limited molecular insights are available. Preliminary data from microarray analysis already revealed distinct impairments of NAc glutamate-related gene expression in heroin abusers. The majority of these genes are upregulated, indicating that transcriptional change may be predominantly activation. Bioinformatic prediction of potential transcriptional regulators of these gene alterations identified DNA-binding factors SP1 and CREB1 as most likely regulators. SP1 and CREB1 are known to interact with various molecules involved in histone modification, such as histone acetyltransferases (e.g., Ncoa1, Ncoa3) that were also affected in the heroin population, which is mechanistically consistent with the observed predominance of upregulated glutamatergic genes. We will validate these findings using a comprehensive view of the genome by RNA-seq next-generation sequencing (Program Core) in the NAc of another subset of heroin abusers and control subjects, and will also examine the transcriptome in the mPFC, which provides glutamatergic innervation to the NAc. Specific glutamatergic disturbances will be assessed within discrete striatal output pathways using laser capture microdissection. To interrogate the molecular mechanisms by which glutamatergic aberrations are maintained, we will perform parallel studies in the rat heroin self-administration model in which viral-mediated gene manipulation strategies will be used to evaluate causal relationship of gene targets to heroin-seeking and intake. ChIP-Seq will be conducted (Program Core) to map genome-wide binding of a select number of target transcription factors, chromatin modifiers and histone marks in the NAc and mPFC. Overall, the novel research in this Project, which is fully integrative with the Core and other Projects of the PPG, will advance molecular knowledge about the pathophysiology of addiction disorders.
Neurodevelopmental Effects of Cannabis and its Epigenetic Regulation - R01DA030359
Emerging lines of evidence suggest that interactions between genes and the environment play a critical role in individual vulnerability to psychiatric disorders including drug addiction. The epigenome is influenced by environment and thus is a highly relevant biological candidate to maintain persistent aberrant neuronal processing as a result of developmental drug exposure. The developing brain may be particularly sensitive to epigenetic influences, given the dynamic neuroplasticity characteristic of this period. Marijuana (Cannabis sativa) is the illicit drug most commonly used by pregnant women and teenagers. Our studies of human fetuses with maternal cannabis use revealed selective alterations of striatal preproenkephalin (PENK) and dopamine receptor D2 gene expression (predominantly enriched in striatopallidal neurons), but not prodynorphin or dopamine D1 receptors (enriched in striatonigral neurons). Similar gene expression patterns were detected in the ventral striatum of rats exposed to -tetrahydrocannabinol (THC), the psychoactive component of cannabis, prenatally as well as during adolescence. Importantly, PENK and D2 gene expression impairments persisted into adulthood following either prenatal or adolescent THC exposure and the animals exhibited increased heroin self-administration and inhibitory control deficit, phenotypes predictive of drug addiction vulnerability. Epigenetic modifications are capable of maintaining modified gene expression states that can persist throughout development and it is an intriguing possibility that such mechanisms would underlie the long-term effects of cannabis exposure. In this project, we propose to study chromatin modification at specific regulatory regions of the PENK and D2 genes in the ventral striatum of adult rats with developmental THC exposure. The fact that PENK and D2 genes are preferentially expressed in subpopulations of stratial neurons that constitutes the striatopallidal pathway suggests a potential THC-sensitivity of genes aligned to this circuit. We set out to discover novel striatopallidal genes that are affected by developmental THC exposure and explore the epigenetic mechanisms that regulate their expression. Furthermore, we will investigate the causal relationship between THC-sensitive striatopallidal genes and addiction-related behaviors by use of gene manipulation in the ventral striatum. Overall, these studies will provide important mechanistic insights into the long-term impact of developmental THC exposure that would enable the development of targeted treatment interventions for addiction vulnerability and other related psychiatric disorders associated with developmental insults.
Multigenerational Epigenetic Effects of Cannabis Exposure - R01DA03360
Marijuana (Cannabis sativa) is the most commonly abused illicit drug by teens and young adults of childbearing age in the USA with significant social and public health implications. While research efforts have begun to characterize the behavioral and neurobiological consequences of direct repeated exposure to cannabis, the possible impact across multiple generations is not known. Preliminary data obtained in our lab suggests that adult rats from parents with adolescent exposure to -tetrahydrocannabinol (THC; primary psychoactive component of cannabis) exhibit reduced motivation and a depression-like phenotype, as well as anxiety-related behaviors that develop in response to their tendency for increased heroin intake. In addition, both male and female F1 offspring show decreased striatal expression of genes that encode several components of the dopamine, opioid and glutamate neurotransmitter systems. Female F1 offspring tended to have more significant disturbances, emphasizing the importance of gender that could potentially be relevant to sex differences seen in psychiatric disorders. The goal of this proposal is to characterize the whole population of mRNAs in the nucleus accumbens (NAc) of F1 offspring from parents with a history of THC exposure by transcriptome sequencing, as well as to study whole genome DNA methylation and chromatin modifications to identify the epigenetic milieu underlying the cross-generational disturbances in this mesolimbic brain region. The molecular studies will be combined with behavioral tests to assess reward-, depression- and anxiety-like behaviors in F1 males and females. We will address the causality between gene expression impairments and specific behavioral phenotypes using in vivo gene manipulations in the NAc. In order to determine whether there is persistent transgenerational transmission, phenotypic and epigenetic marks shown to be impaired in the F1 generation will be followed into the F2 progeny. Overall, these studies will provide fundamental mechanistic insights into the cross-generational impact of cannabis exposure that could guide the development of therapeutic interventions for the spectrum of behavioral phenotypes associated with vulnerability to addiction and psychiatric disorders.