Stem cell functional models 
We are each unique, comprised of distinct genetic, epigenetic and environmental risk factors that predispose us to some diseases and confer resilience to others. As expanding genetic studies increasingly demonstrate that both rare variants of large effect and common variants of small effect contribute to a variety of neuropsychiatric disorders, it becomes increasing critical that we unravel how these risk factors interact within and between the diverse cell types populating the brain. While mouse models are uniquely suited for demonstrating how aberrant function of single gene products contribute to aberrant circuit function and behavior, genetic studies of penetrance and complex gene interactions are nearly impossible to address using inbred mouse lines. Similarly, the lack of human post-mortem tissue, coupled with the inability to conduct functional validations on human cells, has to date left us with a very limited understanding of how rare and common variants impact gene expression or cellular function. By developing a human induced pluripotent stem cell (hiPSC)-based model for the study of predisposition to neuropsychiatric disease, we have established a new mechanism by which to systematically test the impact of causal variants in human cells. The future of psychiatry must be towards a model of precision medicine, whereby how the patient's genetic variants, and the many interactions between them, impact disease course and treatment response is carefully considered before the prescription of any pills
KRISTEN BRENNAND, Ph.D.
Role: Principal Investigator – Associate Professor of Genetics & Genomics, Neuroscience, and Psychiatry New York Stem Cell Foundation (NYSCF) Investigator
Email: kristen.brennand@mssm.edu
Kristen Brennand, PhD is an Associate Professor of Genetics and Genomics, Neuroscience and Psychiatry at the Icahn School of Medicine at Mount Sinai, in New York, New York. She trained in developmental and stem cell biology with Douglas Melton, PhD at Harvard University and in neurobiology during postdoctoral research with Rusty Gage, PhD at the Salk Institute for Biological Studies. By combining expertise in stem cell biology and neurobiology, she has helped to pioneer a new approach by which to study psychiatric disease.
When she's not around the laboratory, Kristen is happiest trail running, snowboarding, gracelessly following her husband on his rock climbing adventures, and watching their toddler uncover the secrets of the universe.
AIQUN LI, Ph.D.
Role: Senior Scientist
Email: aiqun.li@mssm.edu
Aiqun is working on the validation of novel targets for Alzhelmer's disease (AD) using stem cell technologies, CRISPR gene editing systems and next-generation genome sequencing.
Aiqun joined the Brennand lab in October 2017. He is a Senior Scientist in the Department of Genetics and Genomic Sciences. Aiqun earned his B.S. and M.S. in Medicine from Nanjing Medical University in 2000 and 2003, respectively. He then received his Ph.D. in Biochemistry and Molecular Biology from the Chinese Academy of Sciences in 2006. He conducted his postdoctoral training at Weill Cornell Medicine during 2007-2011. Dr. Li joined NYSCF as a Staff Scientist for the NYSCF-Golub Stem Cell Research Initiative for Parkinson's Disease in 2011, and served as a NYSCF Investigator since 2016. He was the recipient of the P&G Award for Outstanding Graduate Student, the Shanghai-Unilever Research & Development Fund, the Bachmann-Strauss Dystonia & Parkinson's Foundation Research Grant, the Parkinson's Disease Foundation Lucien Côté Early Investigator Award, the New York Community Trust Grant, NIH/R21 subaward, and the Michael J. Fox Foundation Target Validation Pilot Award. In his spare time, he loves playing sports.
NADINE SCHRODE, Ph.D.
Role: Postdoctoral Fellow
Email: nadine.schrode@mssm.edu
Nadine is studying the genetic mechanisms underlying neuropsychiatric disorders, such as schizophrenia, in human iPS cell models. She is specifically interested in common variants and is using CRISPR/Cas9 genome editing to elucidate their impact on the transcriptome and phenotype of neurons.
Nadine joined the Brennand lab in April 2016 and was initially co-mentored by Pamela Sklar due to her inclination for computational biology. She is currently a postdoctoral fellow in the Department of Genetics and Genomic Sciences. Nadine performed her PhD research on mechanisms of cell fate choices during early development and in embryonic stem cells at Sloan Kettering Institute in New York. She received her doctorate from the Ludwig-Maximilians University in Munich in 2015. In her free time Nadine enjoys reading epic fantasy and science fiction, baking bread and hiking.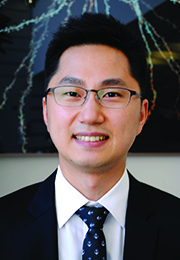 SEOK-MAN HO, M.Sc.
Role: PhD Student
Email: seok-man.ho@mssm.edu
Seok-Man investigates functional roles of schizophrenia-associated genes in hiPSC-neural cells. To do that, he utilizes CRISPR activation and interference platforms for transcriptional modulation of the genes. Subsequently, Seok examines their contribution to neuronal function by observing synaptic and neurite development along with neuro-electrical activity.
Seok joined the Brennand lab in Jan. 2014. as a Ph.D student in the Developmental and Stem Cell Biology graduate program at ISMMS. Seok received his Master's degree in Biomedical Sciences from Sungkyunkwan University in Korea, 2012. In his free time, he plays with his two kids.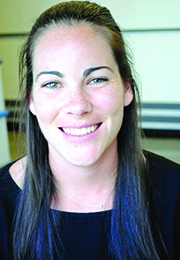 ERIN FLAHERTY, M.Sc.
Role: PhD Student, Ruth L. Kirschstein Fellow
Email: erin.flaherty@icahn.mssm.edu
Erin is characterizing how patient derived hiPSC neurons with heterozygous deletions in NRXN1, a presynaptic cell adhesion molecule, impact alternative splicing of NRXN1 and population wide neuronal activity. Erin is particularly interested in how specific NRXN1 isoforms may contribute to neuronal function.
Erin joined the Brennand lab in the spring of 2015. She is currently a 4th year PhD student in the Neuroscience MTA at Mount Sinai. Erin received her B.S. and M.Sc. in Biology and Biotechnology from Worcester Polytechnic Institute. Erin's master's thesis was done in the Ryder lab where she investigated the cell autonomous roles of MIG-10 and ABI-1 in neuronal migration in C. elegans. Outside of the lab, Erin enjoys hiking in the catskill mountains, running along the NYC rivers, and spending time with friends and family.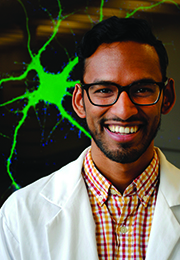 PRASHANTH RAJARAJAN
Role: MD/PhD Student, Ruth L. Kirschstein Fellow
Email: prashanth.rajarajan@mssm.edu
Prashanth is charting how the higher order chromatin landscape ("3D genome") changes across neural differentiation (from neural progenitors to glia and excitatory neurons) and using the maps to identify potentially novel target genes of known schizophrenia risk-associated noncoding common variants.
Prashanth joined the Brennand lab in the summer of 2015 and is co-mentored by Schahram Akbarian, MD, PhD. He is currently a 5th year MD/PhD student in the Neuroscience MTA at ISMMS. Prashanth received his B.S. in Psychology (Cognitive Science concentration) with Honors from Michigan State University in 2013. In college, he studied the effects on prosody on word segmentation and the role of motor areas in the human brain in auditory beat perception. Outside of the lab, Prashanth is a competitive Latin ballroom dancer and an avid listener and learner of South Indian classical music.
ELIZABETH LAMARCA
LaMarca, Elizabeth A (Student)
Role: PhD Student
Email: Elizabeth.LaMarca@icahn.mssm.edu
Liz is studying the role of RNA/DNA hybrids (R-loops) in neural transcriptional regulation, with a focus on genes involved in neuronal differentiation and synapse formation. She is particularly interested in how aberrant R-loop formation can lead to improper neuronal development and ultimately contribute to neuropsychiatric illness.
Liz joined the Brennand lab in the winter of 2017 and is co-sponsored by Schahram Akbarian, MD, PhD. She received her bachelor's degree in neuroscience from Columbia University in 2012 – there, she worked in a lab studying a glutamate / serotonin receptor complex putatively involved in hallucinogenic signaling and a target of antipsychotic drugs. After graduating, she worked in a behavioral neuroscience lab at Princeton University, where she studied the role of microglia in obesity-associated synapse degeneration and cognitive impairment. Outside of lab, Liz enjoys playing Chess, hiking, sculpture, and going to music/comedy shows in NYC.
SAM POWELL
Role: MD/PhD Student
Email: sam.powell@mssm.edu
Sam is in his third year of the MD-PhD program at the Icahn School of Medicine at Mount Sinai. Interested in Neuroscience and Psychiatry, he is studying cell-type specific chromatin dynamics using human iPSC-derived neurons and post mortem tissue. He is particularly interested in how risk loci for Psychotic diseases may disrupt chromatin dynamics in different neurotransmitter systems and how such disruptions may contribute to abnormal neuronal phenotypes.
He joined the lab in the summer of 2017 and is co-mentored by Schahram Akbarian, MD, PhD. When not in lab, Sam works as the Chief Teaching Senior for the Mental Health Clinic of the East Harlem Health Outreach Project, a student-run clinic for those without insurance. He enjoys reading, exercising, jazz and classical music, and assorted fine teas.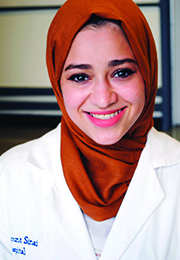 RAWAN ABDELAAL
Role: PhD Student
Email: rawan.abdelaal@icahn.mssm.edu
Rawan works on the interactions between motor neurons and glial cells in amyotrophic lateral sclerosis (ALS) pathology using mouse and iPS cell-based models combined with NGS technology. She mostly focuses on iPSC culture systems including differentiation of iPSCs into ALS relevant cell types (e.g. motor neurons, astrocytes, etc.) as well as organization of multiple lines of ALS patient-derived iPSCs and differentiated cells. Rawan graduated with a BS in Biotechnology from the City College of New York in Fall 2015., Rawan first joined as a technician in February 2016 and will soon assume a new role as PhD student in the lab at Mt. Sinai in August 2018. In her spare time, Rawan enjoys attending jazz concerts and fashion events.
.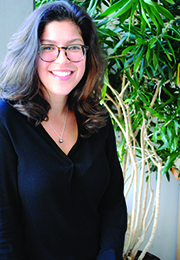 SONYA ABADALI
Role: Master's Student
Email: sonya.abadali@icahn.mssm.edu
Sonya works to elucidate the genetic mechanisms involved in schizophrenia phenotypes. She investigates the role of single nucleotide polymorphisms (SNPs) in a schizophrenia-associated gene, FURIN, using CRISPR-Cas9 gene editing technology in a stem cell model.
Sonya joined the Brennand lab as a graduate student in 2016 after earning her B.S. in Neuroscience at Johns Hopkins University. She also studied Global Health and Social Medicine at King's College London. In her free time, she enjoys hiking, traveling abroad, community organizing, writing, and spending excessive amounts of money on food and coffee.
NATALIE BARRETTO
Role: Master's Student
Email: natalie.barretto@icahn.mssm.edu
Natalie works on differentiating GABAergic interneurons from neural progenitor cells (NPCs) with the goal of co-culturing ribo-tagged inhibitory and excitatory neurons to study risk-associated common variants of schizophrenia.
Natalie started in the Brennand lab as an undergraduate volunteer during the fall of 2016 and is now a first year Master's student. She obtained her B.S. in Neural Science from New York University in 2017. In her spare time, Natalie enjoys podcasts, cappuccinos and flat whites, amateur photography, and bossa nova.
MADELINE HALPERN
Role: Master's Student
Email: madeline.halpern@icahn.mssm.edu
Madeline is in her first year in the Master's program, and is currently working on applying a ribo-tagging protocol to NPCs, with the hope of using this technique to co-culture ribo-tagged motor neurons and astrocytes to study common genetic variants of amyotrophic lateral sclerosis (ALS), as well as to excitatory and inhibitory neurons in schizophrenia models.
Madeline joined the Brennand lab when she began the Master's program in the fall of 2017. She obtained her B.S. in Neuroscience and B.A. in Spanish from Johns Hopkins University in 2016. On weekends, Madeline works as a volunteer EMT. In her free time, Madeline enjoys having a nice cup of tea, while either watching cat videos on YouTube or writing short stories, and painting and photography.
MARLIETTE RODRIGUEZ MATOS
Role: PREP Scholar
Email: marliette.rodriguez@icahn.mssm.edu
Marli's main goal is to understand the molecular mechanisms underlying neuropsychiatric disorders such as Schizophrenia. She joined the Brennand lab in October 2017, with the goal of building a strong platform for her future as a PhD student. As of now, she has been under the mentorship of Seok and Nadine, and her confocal microscopy work has been featured at "The Art of the Brain Exhibition" organized by the Friedman Brain Institute.
Marli is in her first year of Post-Baccalaureate Research Experience Program (PREP). She graduated from Florida International University in 2017 with a Bachelor of Science in Chemistry where she worked towards understanding the metabolic pathways of several algal toxins as well as their isolation and identification. On Saturdays, she volunteers at the Young Eisner Scholars program to help facilitate underprivileged community students on their path towards academic success. She is determined to run a half marathon before the end of 2018 and is surprisingly good on a snowboard (however, that could be just "beginners luck").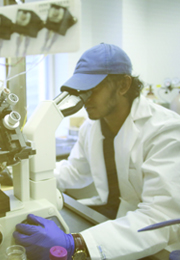 MICHAEL FERNANDO

Role: PhD Student
Email: michael.fernando@icahn.mssm.edu
Michael is studying how aberrant splice isoforms of NRXN1 alpha, a key pre-synaptic cell adhesion molecule, impacts neuronal function. Michael is particularly interested in NRXN1 alpha interactions with post synaptic ligands, and how these interactions are perturbed in aberrant NRXN1 alpha isoforms. Michael is using a combination of RNAsequencing, proteomic and electrophysiological strategies to evaluate how aberrant NRXN1 alpha isoforms contribute to deficits in neural activity. 
Michel joined the Brennand lab in the spring of 2019 and is co-mentored by Paul Slesinger, PhD. He is currently a 2nd year PhD student in the Nash Family Department of Neuroscience. Michael received his B.S. in Biology with Honors from St. Thomas University in 2017. In college, he studied the regenerative mechanisms of TBI and SCI injured zebrafish. Outside of the lab, Michael is a volunteer Co-President of MiNDs, enjoys exploring the city and trying new foods!