Synapse structure and function is continuously modified during development and throughout life by experience, such as learning new skills or forming new memories. Such synaptic plasticity is thus critical for normal brain function. Synaptic plasticity can also become maladaptive under conditions of brain, spinal or peripheral nerve injury, leading to abnormal function or sensation. Dr. Huntley's research focuses on mechanisms of circuit formation and synaptic plasticity and how these can be modified by experience or genetic mutation. Research projects include: 1) the role of the cadherin family of synaptic adhesion proteins in synapse and circuit development, plasticity and repair; 2) genes, molecules and mechanisms regulating aberrant corticostriatal circuit development and plasticity in autism and Parkinson's disease models.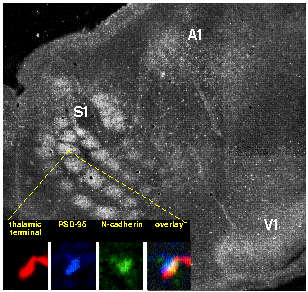 Contact Us
Huntley Laboratory
George W. Huntley, Ph.D
Professor
Department of Neuroscience and the Friedman Brain Institute
Director, Neuroscience PhD Graduate Training Area
Ombuds for the Graduate School of Biomedical Sciences
Icahn School of Medicine at Mount Sinai
Location
Lab: HESS CSM 9-302
Office: HESS CSM 9-108
Phone
Office: 212.824.8981
Lab: 212.824.9133
Fax: 212.537.9583
Email
Hussein A, Tielemans A, Baxter MG, Benson DL, Huntley GW. Cognitive deficits and altered cholinergic innervation in young adult male mice carrying a Parkinson's disease Lrrk2-G2019S knockin mutation. Exp Neurology (2022) doi: 10.1016/j.expneurol.2022.114145.

Deficits in attention and slower information processing speed are common and early-appearing cognitive abnormalities of idiopathic a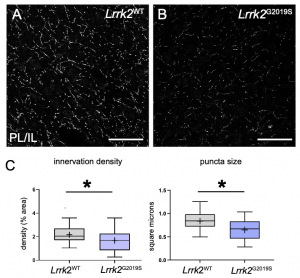 nd hereditary Parkinson's disease (PD). To explore the underlying neurobiology of such cognitive impairment, we interrogated mice carrying a G2019S knockin mutation in the kinase domain of leucine-rich repeat kinase 2 (LRRK2)—a mutation which in humans greatly increases risk for late-onset PD—behaviorally, pharmacologically and anatomically. Young adult male Lrrk2G2019S and wildtype control mice were subjected to a 5-Choice Serial Reaction Time task–a touchscreen-based attention task that relies on frontal-striatal connectivity and is strongly modulated by cholinergic innervation. Mutant mice exhibited significantly more omissions and longer response latencies than controls that could not be attributed to deficits in motivation, visual sensory perception per se or locomotion, thereby suggesting impairments in divided attention and/or action-selection as well as generally slower information processing speed. Pretreating mice with the acetylcholinesterase inhibitor donepezil normalized both higher omission rates and longer response latencies in the mutants, but did not affect any performance metric in controls. We found further that cholinergic fiber density in cortical areas PL/IL was significantly sparser in mutants than in controls. These data suggest that the Lrrk2G2019S mutation negatively impacts cholinergic innervation anatomically and functionally by young adulthood, impairing corticostriatal network function in ways that may contribute to early PD-associated executive function deficits.
Pamela del Valle
PhD student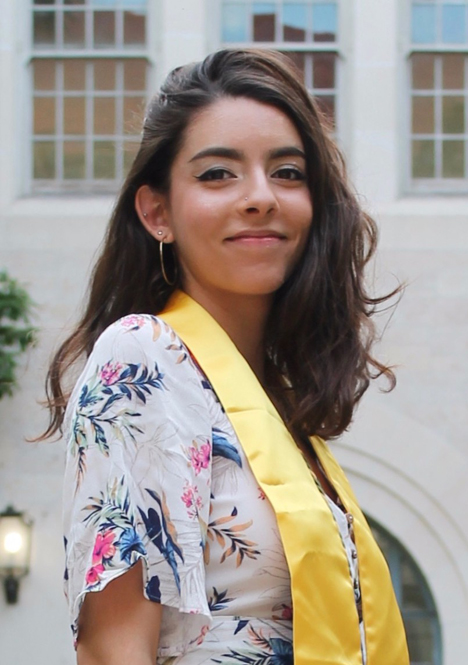 Pamela is a graduate student in the PhD Neuroscience graduate program working jointly in the Huntley-Benson labs studying how Parkinson's disease-linked mutations affect the peripheral and central immune system in ways that impact synapses, circuits and behaviors.

pamela.delvalle@icahn.mssm.edu
Swati Gupta
Postdoctoral Fellow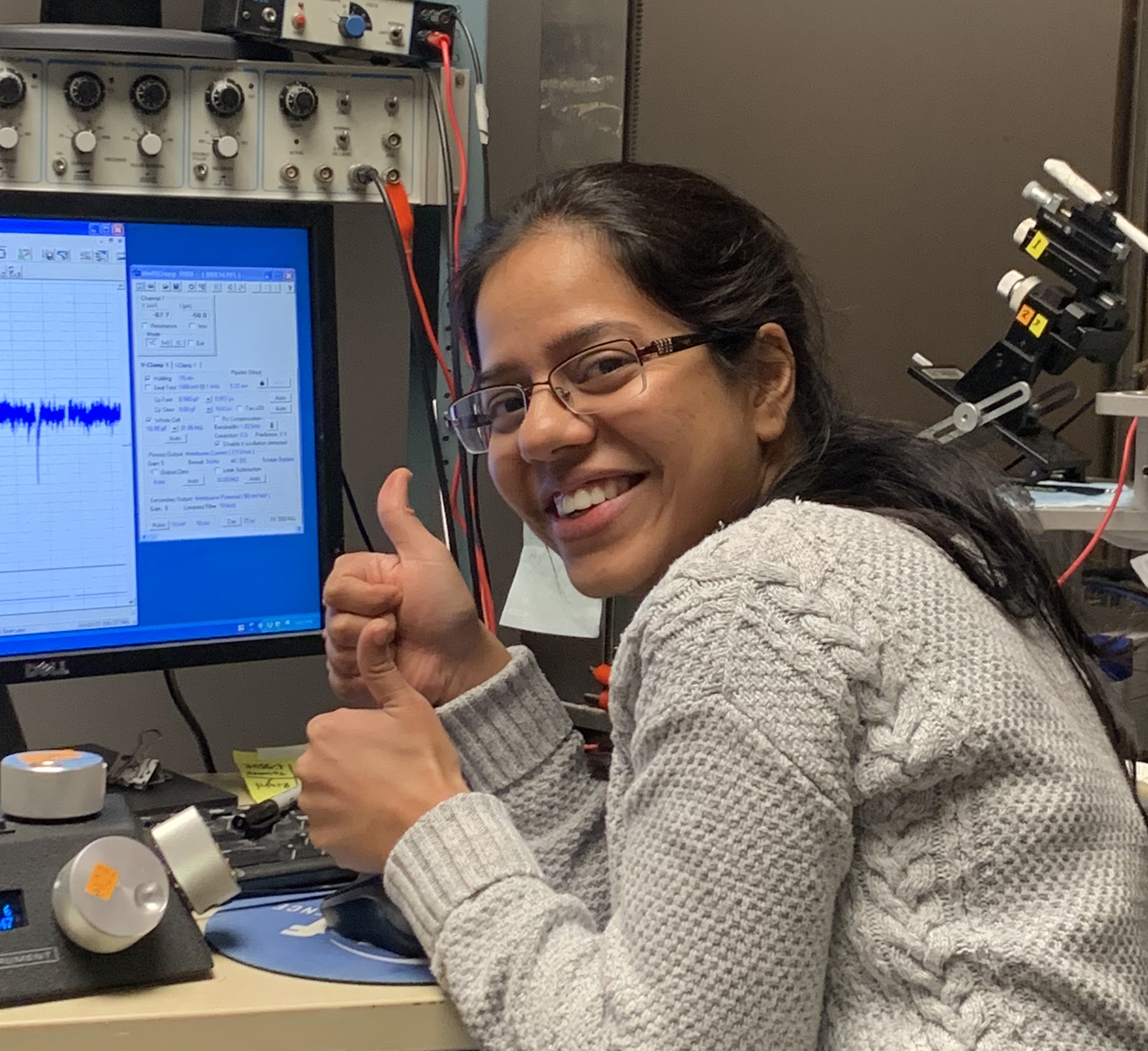 Swati is a postdoctoral Fellow working jointly in the Huntley-Benson labs studying the cell biology of membrane channel trafficking and synapse plasticity in mouse models of Parkinson's disease.

swati.gupta@mssm.edu
Christopher Guevara
PhD student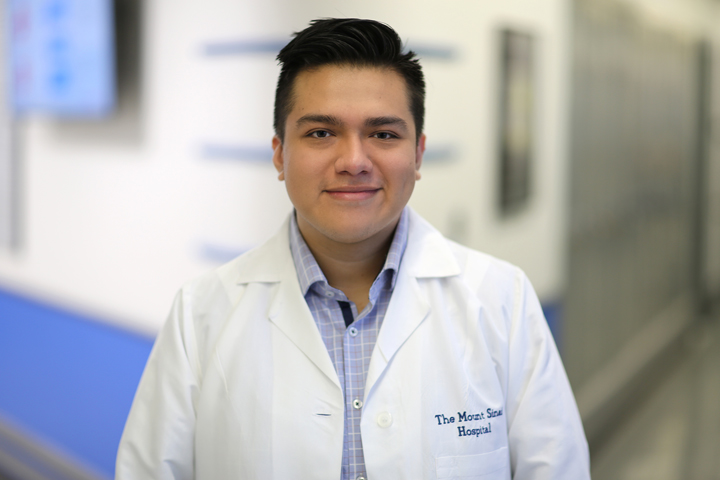 Chris is a graduate student in the PhD Neuroscience graduate program working jointly in the Huntley-Benson labs. Chris is using mouse genetic models of Parkinson's disease to examine effects of behavioral stress on synaptic and non-synaptic forms of adaptive plasticity in cells and circuits of dorsal and ventral striatum and related structures.

christopher.guevara@icahn.mssm.edu