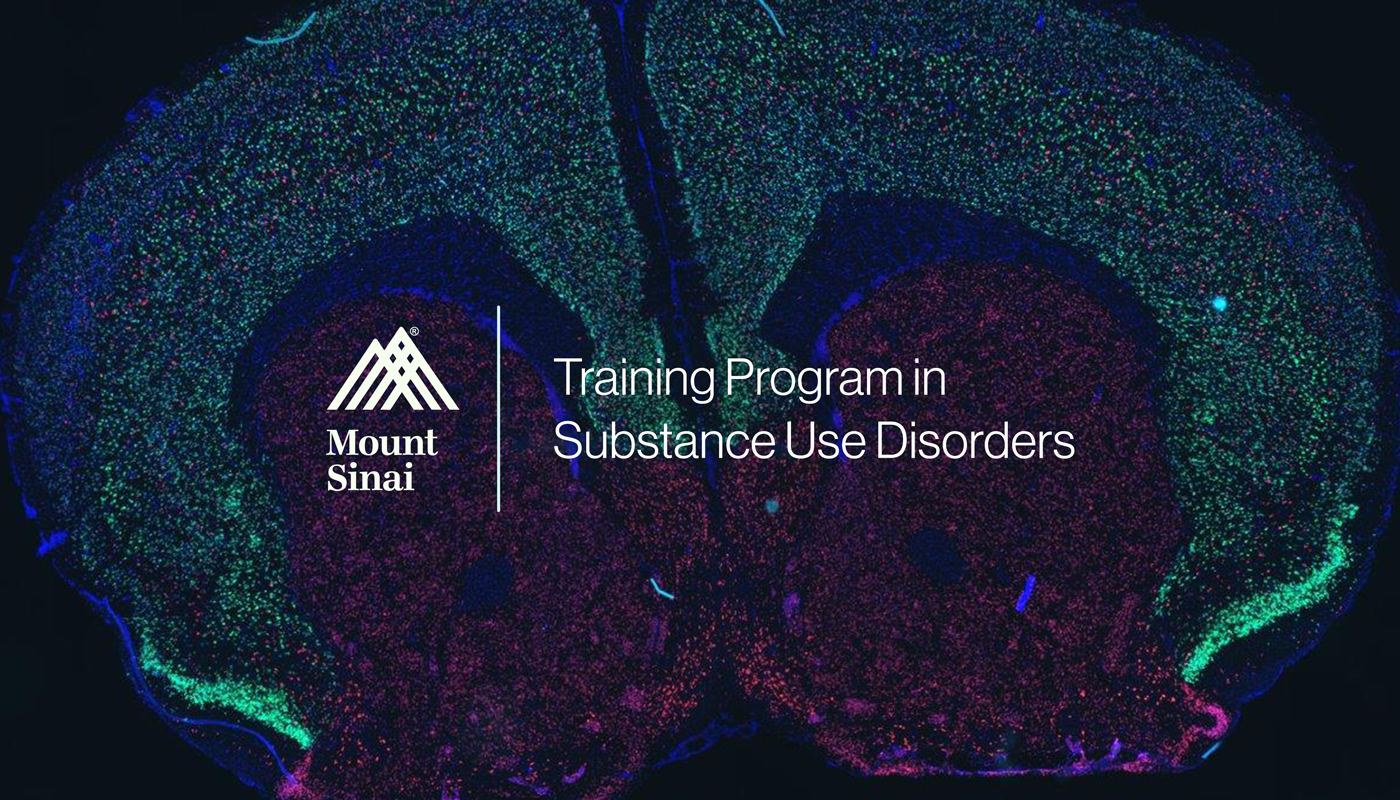 Funding for the Nash Family Department of Neuroscience's Training Program in Substance Use Disorders at the Icahn School of Medicine at Mount Sinai is supported by grant number T32DA053558 from the National Institute on Drug Abuse.
This training program provides rigorous training in basic and translational research in substance use disorders for a highly talented diverse group of predoctoral and postdoctoral researchers through an integrated program of coursework, mentoring, training activities, teaching opportunities, and career development to prepare talented trainees for independent research careers in substance use disorders at all levels – from preclinical genetics, cellular and molecular mechanisms of the disorders, to clinical research and interventions.
This program encourages participation of faculty mentors across different Mount Sinai departments, institutes and centers whose grants specifically target substance use disorders, as well as those whose research is critically important for the multidisciplinary training we seek to impart on our trainees, thus offering the flexibility in developing truly collaborative research projects between laboratories. The multidisciplinary training areas include, but are not limited to, Neuroscience, Psychiatry, Genetics and Genomic Sciences, and Pharmacological Sciences; and the Graduate School of Biological Sciences. The training will have a didactic component to foster quantitative reasoning skills as well as training to understand and maintain awareness of the ethical issues in research. The trainees will be provided with guidance and support to develop their own independent research projects that can serve as the basis to launch successful independent careers in substance use research.
Angelica Minier-Toribio
Degree working towards: PhD
Mentor: Eric Nestler, MD, PhD

Research project:
Angelica is studying the neurobehavioral profile of depression and addiction-related phenotypes.
Training, Activities and Skills
Course:
"Drug Addiction: Mechanisms and Therapeutic Approaches" (V Zachariou, P Kenny)
This new course will be available starting in the Fall 2022 and will be a requirements for T32 trainees to participate.
| | |
| --- | --- |
| Lecturer | Topic |
| P Kenny-V Zachariou/Addiction Clinique | Introduction-Clinical presentations. Current Rehab approaches |
| | Nicotine Addiction |
| | Opioid Addiction-Clinical problems and New treatments |
| | Alcohol Disorders |
| | Psychostimulant use disorders |
| | Cannabinoids |
| Trainee presentations: | Addiction Disorders: : Prevention and Criminalization around the Globe |
| | Neuroimaging in Addiction |
| | Addiction in Adolescents |
| | Exposure to psychotropics during pregnancy |
| Trainee presentations | Addiction Disorders during the Covid19 pandemic |
| | Recurrent neural network models for mechanism discovery in health and disease. |
| | Computational methods in Addiction Research |
| | Neuroepigenetics |
| Trainee Presentations: | Socioeconomic aspects of Drug addiction |
Addiction Club: Journal Club (Yasmin Hurd, Addiction Institute)
Addiction Club, meets monthly, that is translational and based on patient cases, with an opportunity for the T32 trainee to present at the Club in partnership with one of the clinicians.
Research Presentation, Seminars and Events
Ongoing events throughout Mount Sinai and support T32 training include:
Addiction Institute of Mount Sinai
Diverse Brains Events
Friedman Brain Institute Translational Seminar Series
Genetics and Genomic Sciences Seminar Series
Molecular & Cellular Signaling WIP
Pharmacological Sciences Seminar Series
Psychiatry Seminar Series
Trainee-organized panels
T32-Retreat: Trainee presentations and networking, Seminars by Alumni and Invited Speakers.
Annual event that will showcase our T32 trainees.
Angelica Minier-Toribio
Degree working towards: PhD
Mentor: Eric Nestler, MD, PhD

Research project:
Angelica is studying the neurobehavioral profile of depression and addiction-related phenotypes.
Eligibility and Application Process
This training program is open from second year level and up PhD Students and Postdoc Fellows. NIH T32 trainees must be U.S. Citizens, noncitizen nationals, or permanent residents. All trainees are required to pursue research training full time. Trainee appointments are made in 12-month increments, and no trainee may be appointed for less than 9 months.
In consultation with their PI (a participating Faculty Mentor), the prospective trainee should submit a formal request to join the Training Program to:
Nora.McLaughlin@Mssm.edu and Venetia.Zachariou@mssm.edu
The request will include a:
CV and summary of research interests
Letter of Support by the Participating Faculty Mentor
There is a rolling application process. The Steering Committee evaluates the requests and selects trainees. The first summer on the training program is spent developing an Individual Development Plan that is tailored to the trainee.